WHO WE ARE
Our company Zeck TSE International Ltd….
Zeck TSE International Ltd. was founded in the year 2011 as Manufacturer of Equipment for Construction of Power Transmissionlines, so called Tension Stringing Equipment, or short "TSE". It is a subsidiary of the German company ZECK GmbH, one of the hidden champions within the German medium sized Machine Manufacturing Industry. This company, of which Zeck TSE is carrying the genes, is family owned and managed in third generation. Of it´s over 100 years long history ZECK GmbH is since 50 years already specialized onto the design and manufacture of Tension Stringing Equipment. Based on this immense expertise Zeck TSE first started in Thailand with the manufacture of braided wires ropes, which are essential for pulling power conductors over transmissionline towers. Since then Zeck TSE is consistently developing and manufacturing new products. The supplies of the ZECK companies in Germany and Thailand perfectly round up into a first class and competitive package. This European-Asian Bridge is making us fit for the challenge of the changes of time.
For the territory of Asia, the Middle East and large parts of Africa Zeck TSE takes charge of sales and service for the complete product range of the Zeck group of companies. Besides equipment for powerline construction this includes also Railway Construction Equipment.
In the city of Bangkok Zeck TSE is having an administrative office. The factory, a custom designed building on an area of 16,000m2 is located approximately 80 km southeast of Bangkok in the outskirts of Chonburi City. This is the center of Thailand´s so-called "Eastern Economic Corridor", an area with high industrial concentration promoted by the Thai Government with various incentives to attract international investment. The factory is only 30 km away from the international deep seaport Laem Chabang. Zeck TSE currently employs a staff of approximately 70 highly motivated, well trained, diligent and loyal people.
For diversification into a related industry Zeck TSE recently started to venture into the market of Underground Utility Construction and construction and construction of electric distribution lines.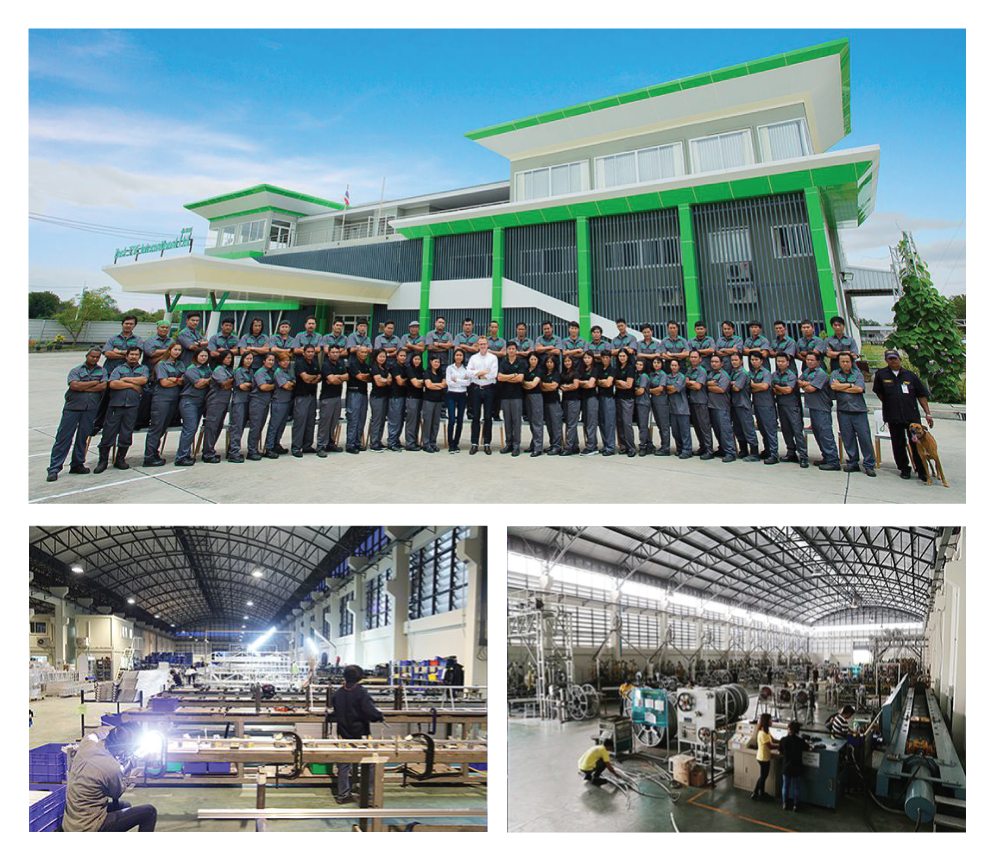 Our mother company ZECK GmbH in Germany …
Our mother company ZECK GmbH was established in the year 1918 short after World War I by Michael Zeck sen. Initially they were specialized on machines for agriculture. In the year 1966 Fritz Zeck, the son of the company founder, developed for a German Power Utility Company a first Tensioner for contactless stringing of Power Transmissionlines. Over the years to come this was triggering the development of the whole ZECK product range of equipment for construction of Power Transmission Lines.
In the year 2020 ZECK GmbH has surpassed the manufacture of its 10,000th machine, an 18 ton capacity Puller-Tensioner WB 1800/18. They currently employ approx. 150 highly qualified people.
The equipment manufactured by ZECK GmbH is ahead of the pack in terms of technical innovativeness, user friendliness and aftersales service. ZECK GmbH is frequently receiving official rewards for innovativeness and it is considered to be among the best medium sized machines manufacturing companies in Germany. They are the role model for our company in Thailand.
For the complete product range please refer to the catalogue of ZECK GmbH, Germany
https://www.zeck-gmbh.com/downloads/
VISION
excel to be a global market leader in our field, setting standards in our industry by producing and trading a wide range of innovative Tension Stringing and other Equipment in symbiotic relation with ZECK Germany
MISSION
develop and manufacture products with unique features and of outstanding quality
achieve maximum benefit for our clients
develop excellency in products/service/and on time delivery
fulfill our employees with pride about being part of Zeck TSE and the ZECK group of companies
enhance the capabilities of our employees with opportunities to improve their functional knowledge and skills
increase our competitiveness by continuously improving internal and external processes
WHY THAILAND?
Thailand represents an excellent manufacturing base because of multiple reasons. We found a highly skilled and quality conscience workforce, of which many have been trained through world-class Japanese companies, who dominate the international industrial landscape in Thailand.
Another factor is the strong automotive industry in Thailand, which is providing us with a very high quality supply chain in the field of metal working.
Of further benefit is a liberal business legislation as well as very attractive promotion schemes for foreign investment. Zeck TSE International Ltd. is a Thai Board of Investment promoted company. This status gives us an extra competitive edge because we are able to pass on many of its beneficial privileges directly to our customers. All this combined with the intensive technical support by Zeck GmbH helped Zeck TSE International Ltd. in its phenomenal development since 2010.
OUR PRODUCT RANGE
Together with Zeck GmbH we manufacture the complete product range which is required for transmission line construction. While ZECK GmbH concentrates on the manufacture of Tension Stringing Machines, Zeck TSE International Ltd. has it´s focus on the production of tools and accessories associated with the construction of Power Transmissionlines. As one of the later developments started Zeck TSE with the design and manufacture of an economic range of hydraulic machines for powerline construction.
Draw Wires (braided and torsion-free) ropes for pulling conductors over towers (draw wires)
Ginpoles
Suspension Ladders
Linecars
Line Bicylces
Sag-scopes
Drums Stands
Reelwinders
Reels and Drums
Pulling Grips
Compression tools
5 tons Bullwheel Puller for Tower Erection and cable Pulling
Pulley Blocks, including Helicopter Application
QUALITY OF OUR PRODUCTS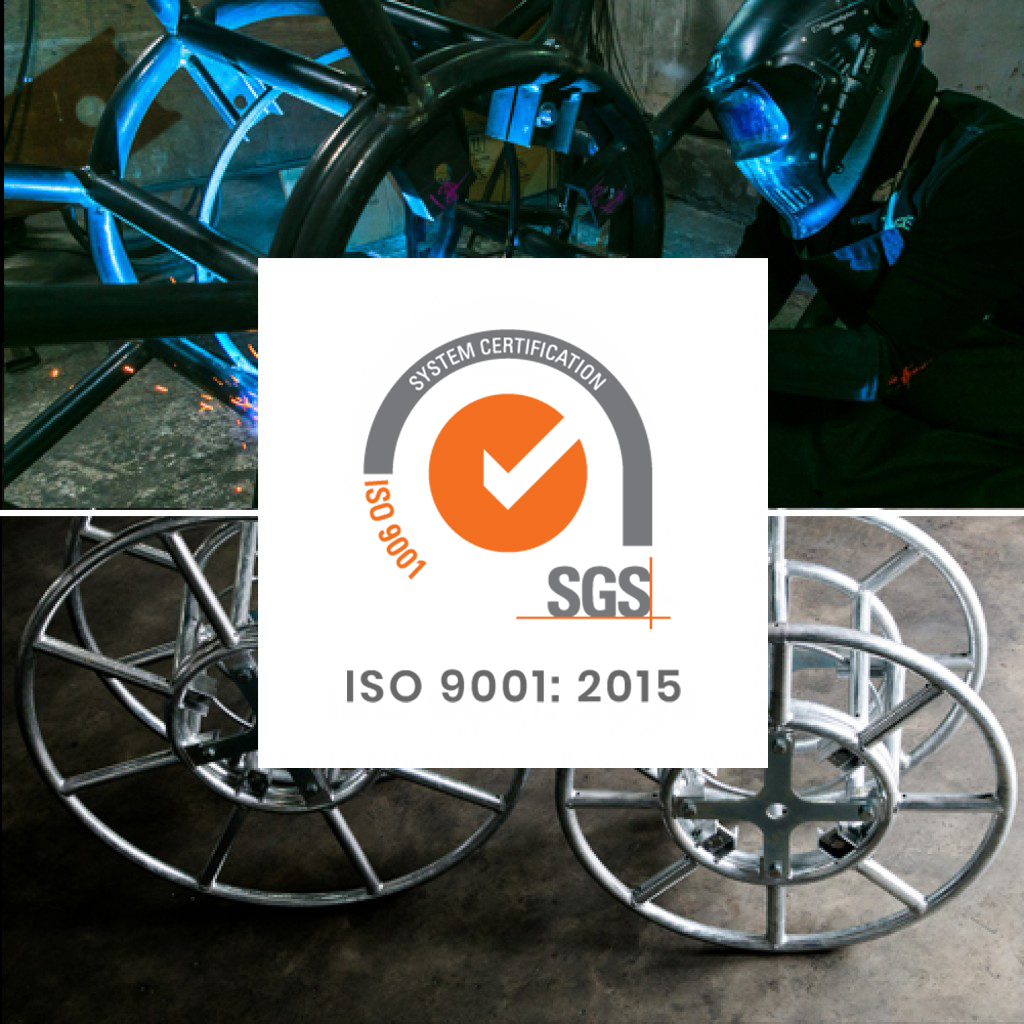 Our products underlie a very strict quality scrutiny by ZECK GmbH. As an Asian based company we are often confronted with the wrong apprehension of producing low cost and not the best quality. We fight against this by striving to produce the very best quality at yet competitive price levels. Our production methods and quality practices are since 2012 enhanced by ISO9001:2008 then now ISO9001:2015 certification, which harmonizes our quality control system and business-flows with international standards. Our products are designed and manufactured in compliance with European Standards. This provides an extra assurance to customers of our commitment to manufacture the highest quality and the best performing products available in the industry.
Click here to view ISO 9001: 2015 certificate